I know, I know, we haven't been around in a long time.  This year has been one hectic, busy year for us.  So far we've fostered 12 kittens and 1 cat for the local shelter.  We would foster dogs, but my sisfur Gretchen is pretty picky about other dogs coming into the house.  So far 9 of the kittens have found forever homes.  One of the foster kittens is a Tripawd, her name is Maya.  She is so adorable and independent and playful too.  She was born with the lower part of her right rear leg missing.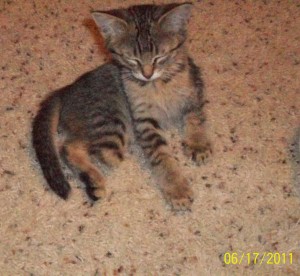 Unfortunately 1 went to the Rainbow Bridge.  The vetman said it had "Fading Kitten Syndrome".  So we are still taking care of 2 kittens and the CAT!!!  Mom volunteers 2 days a week at the shelter now too.
It's hot here, so hot you can fry eggs on the sidewalk.  That means no walkies for the 3 dogs in the house.  Mom got us a small pool to cool off in when we go out in the yard.  She donated my big pool to the shelter for all the dogs there because we wouldn't go in it anymore. We really like splashing around in the little pool and it makes a great water bowl too.  I had to get a haircut too, they shaved me down to 1/2 inch just to keep me cool.  We're looking forward to the cool winter weather though, that's when we get to go to the park and walk around again.  It should only be another month or so…..Come on October!!!  It can't get here soon enough for me.
As a Tripawd, I'm doing fine.  Had to go to see the orthopedic vet again because I was limping.  He says I have arthritis in my front leg already.  Geez…I'm only gonna be 4 yrs. old.  One of the hazards of carrying 60% of your weight on your front legs I guess.  I have to take glucosamine now and Rimadyl if I need it.  Mom only gives me the Rimadyl once in a while.  I think I've had it 2 or3 times since my visit to the vet last May.  Not bad for a stiff old guy huh?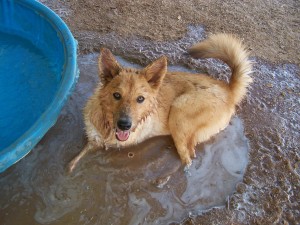 Well, that's about all for now.  Just keeping busy with the kitties and the shelter work, trying to stay cool.  Hope you all are staying cool too!
Licks & Wags!