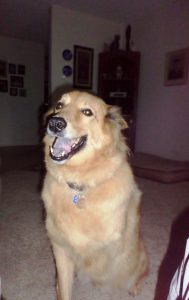 Is this what the hoomans call the downhill slide? Dr. Sam (I really lick this dude!), tells me that my one and only front elbow is starting to give out. Hooman mom told him I am having trouble getting up on my own and when I do get up, sometimes, my front leg gives out and I fall on my face. I think I'm just drunk with LUV!!!
Harumph!!!! My elbow is hot, swollen and stiff. My right rear leg is stiff and the knee is bone on bone. The left rear leg is in better shape and that one doesn't have a hip joint! Wut's goin' on?
Now I understand I have had Legg Calve Perthes disease since I was knee high to a grasshopper, then something terrible happened when I was a taco stealing pup in Mexico and I lost my left front leg. Bad enough all that happened but then at the ripe old age of 1 1/2, I fractured my femur on my left rear leg and had FHO surgery. Mom had fun with me then, you know, a 2 legged dog! Bwahahaha! I leaned on her for everything. Then last year Dr. Sam said I have Degenerative Myleopathy to top everything else off. Well, I say ENOUGH!!!!
Today is ENOUGH!!!! We started Adequan injections, have Duralaction chewables on autoship from Chewy.com and started Rimadyl. I get to visit my BFF Dr. Sam every week for 6 weeks and then every other month for my Adequan. It will be fun, I get to go for a ride!! Stick my head out the window, make nose art, bark at the motorcycles. The girls at Dr. Sam's give me lots of pets & hugs. Mom puts me in my Help-'em-up harness and, my sis-furs Gretchen & Anka get all jealous cuz they have to stay home.
So that's the update. Stay cool pups & peeps! I'll keep ya posted.