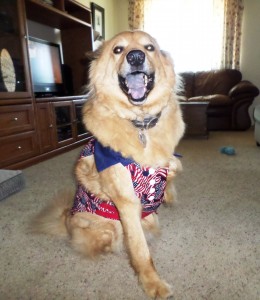 Summertime in Arizona sure is hot! 114 degrees today, so I stay inside most of the time, unless I have to potty. Mom and I sit on the porch in the mornings. We watch the birds while mom drinks her coffee. My sisfurs Gretchen & Anka play in the yard or just lay around and enjoy the cool sunshine.
Today, momma gave us all a bath. She thought it would help get some of the fur of us. Boy was she wrong! Now we are really shedding!!! My sisfur Gretchen has big puffs of fur coming out even though mom has brushed her several times. Anka is shedding, but not as bad and I just love to be brushed but if momma brings out the vacuum…..Look out!!! I am all over that thing. I just want to be vacuumed and get the fur sucked off me. Daddy thinks I'm crazy, but it gets more fur than any brush ever did.
We don't go for walks very often right now for a few reasons. 1. Mom has a bad knee and can't walk very far any more. 2. She has to make 2 trips, 1 with me and 1 with my sisfurs. 3. The sidewalks get so hot here right now, you can cook an egg on them. So instead of walks, we play in the house where it is cool. We roll a ball around or play tug of war with toys.
Well, that's about it for now. I'm still hoppin' around and staying healthy. I do trip once in a while which makes mom nervous cuz I fall on my face, but hey, I'm a clumsy guy. What does she expect? Heehee!