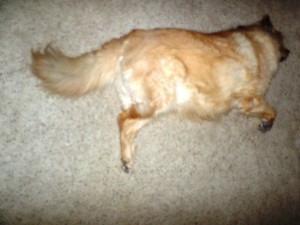 Hey everyone! I got to go see my favorite vet Dr. Sam on Tues. He's an awesome guy and I just Love, Love, Love him! I did really good while I was there. He checked me from head to toe and top to bottom. Gave me all of my vaccines and told mom that I'm doing pretty good for an old dude.
There were a couple of things that weren't so good though.
First: I gained 20 pounds in the last year. Mom says it's because I have become really lazy and don't want to walk or play anymore. Dr. Sam did some bloodwork to check me out and see if maybe my thyroid was messing with me. It's not. So, I'm on a diet to lose some weight.
Second: The vet thinks I have Canine degenerative myelopathy. My back legs are getting weaker, I am losing motion in them and the muscle mass is disappearing. I also cross my legs when I lay down. There is no cure for it, but vitamin supplements and exercise may slow it down. So, Mom says I have to be a good boy and go out in the mornings when it is still cool outside and walk with her. Most of what the vet told her and what she has read about this says I should be o.k. for another 2-3 years. I'm o.k. with that, I've had a good life here. As a matter of fact, I have had a grrrrreat life!
Mom & Dad also told me that they won't do anything to make me uncomfortable when my time comes. But they will do everything to keep me comfortable for as long as possible. I sure do Love them.
Well, I'm off to walk around the yard for a bit.
Bark at you all later!!!
Chuy