I still had the best Christmas a dog could ask for. All the critters here got presents from our MySpace furriends.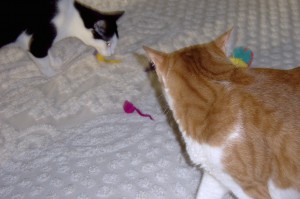 The kitties got meeces and a squoosh ball. We doggies, well just take a look!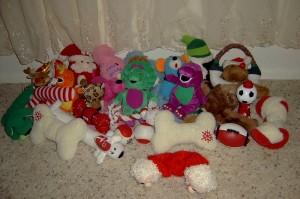 That Barney you see in there? Well, he's MINE!!! All mine!!!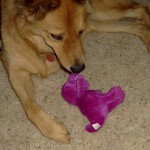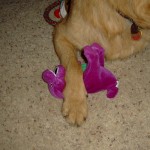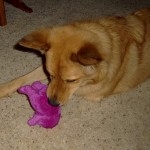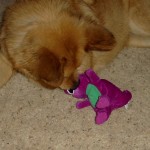 Mom says I'm supposed to rip his head off, but I kinda like chewing on him better.
We had a quiet day on Christmas, went for a long walk and got to play with some of the kids down the street for a little while. It was lots of fun.
Gretchen started limping again today. Mom can't figure out what's going on so tomorrow the vet will take a look at her. She holds her foot up in the air and is real antsy when she lays down. Mom gave her 1/2 of one of my Tramadol tablets to settle her down today. Gretchen is 10lbs. heavier than me, so mom figured it wouldn't hurt her. It did help because she is walking on the foot now. Mom is scared…this isn't the first time Gretchen has limped on that leg and after all the stuff she's read about OSC it's making her scared. I say, let's see what the vet says.
Anka is getting bigger every day. She's over 30 pounds now and just about 4 months old. She's gonna be a big one, that girl is. Smart too! Tell her something once and she never forgets. She's got a stubborn streak in her though. Likes to make Mom & Dad chase her around the yard to get her in the house at night. Good for her! I say they need the exercise anyway.