It's been a while since I've posted here and I really do feel bad about it. We've been doing a fundraiser for a cat rescue on myspace. We did raise over $300 dollars and did a gift exchange for all the dogs and cats that participated.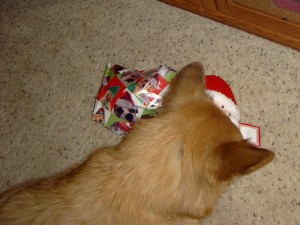 Mom thinks it's funny, Gretchen, Anka and I are getting more Christmas packages and cards than she and Dad are. I think it's neat! We didn't know that so many of our PetSpace (MySpace) friends loved us so much.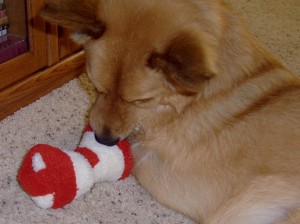 Anka and I are getting along real good now. We chase each other around the yard alot and play with our toys in the living room. She actually just leaps into the air and lands on me and we wrestle. It's so much fun. Anka goes to school on Saturdays and Doggy daycamp on Wednesdays. Thank goodness! I need a break once in a while.
Swimming is still in my plans every 3 weeks. Jeff says I'm getting too strong. heehee! I like swimming, just hope the weather warms up a little bit. It's chilly getting out of that pool all wet.