About 3 weeks ago, Mom & Dad decided they wanted to find out what kind of mix I really am. They sent away for a doggie DNA test for both my sister Gretchen and I. It was a simple mouth swab and they mailed them back right away.
We got the results back this week! It was really quick and easy.
My sister Gretchen is:
30% Siberian Husky (notice the tail?)
20% Borzoi (that explains the ears)
20% German Shepherd (black & tan)
10% Great Dane (short hair & tall)
10% Poodle (WTF?)
10% Yorkshire Terrier (again WTF?)
I see the first four in Gretchen, but Poodle and Yorkie?  BOL!!! She hasn't got a curly hair on her body and she's way too big with short hair to be Yorkie! OH MY Dogness!!!  Poor thing is confused as to how to behave or what to look like!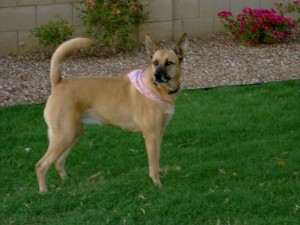 I on the other hand turned out to be:
30% Chow Chow
30% Newfoundland
30% Siberian Husky
10% Beagle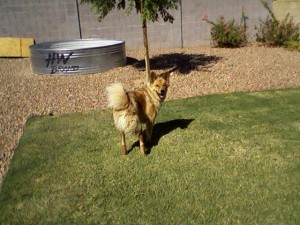 Now I can see the husky, chow and newfie in me cuz I got a curly tail, gold fur and love the water. But Beagle? Where did that come from? Mom says she doesn't see it either!
Just thought I'd share this news with my furriends here. It has been interesting to discover all of this. Now we know what to watch for healthwise when we get old.