Mom's been furry busy lately with fund raising for a friend in Chile that runs a cat rescue. It took everything mom's friend had to fix her house after the earthquake, so mom did an online auction on Gretchen's MySpace page. She raised $665!
I got to go see my friends at San Felipe Animal Rescue (they saved my life and helped me find my forever home). The nice lady there gave mom a picture of my leg before it was taken away from me.
Before Amputation: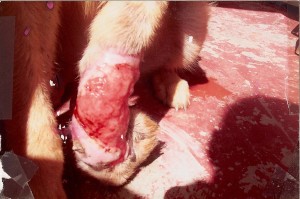 It's pretty gross, but it had no pulse and never would have healed. I'm glad they took it off, could you imagine trying to walk on that? I think I run much better without having it dangle from my shoulder.
After Amputation: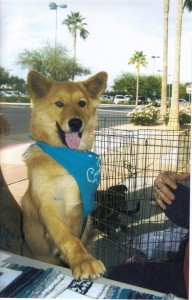 We went to visit a new friend here in Mesa. Debbie has 6 Chihuahuas. They are furry cute, but were afraid of me cuz I'm so much bigger than them. I really liked meeting them and Debbie's husband is the best! He gave me cookies!!
Dad filled my pool up! I can't wait to go swimming in it again. Dad & Mom say I have to wait until the water warms up, but I don't want to. They won't put the ramp up until it's warm enough. I'm hoping that maybe by the time Wyatt Ray gets here, it will be ready to swim in. Wyatt and I can have lots of fun in the water. 🙂
I am still going for walks around the block and taking swim therapy with my friend Jeff once a month. I did miss it last week though. Mom had a stiff neck for 4 days and couldn't drive. Seems like forever, but I know I'll be going back again soon.
ARoooooo!!! In 2 weeks, I get to meet Wyatt Ray Dawg, Dixie and hopefully Tasha too. It's going to be so much fun. I just have to remind mom to charge up the batteries on the video camera so we can get lots of action shots. We're going to meet at the dogpark in Phoenix. I am soooooo looking forward to that. Come on April 3rd!!!