Well, of all the nerve!  Mom says I'm a slacker because I haven't updated my blog lately.  She's right, but still!
I've been spending a lot of time in my pool as of  late.  The weather is starting to get real hot here and I'm glad we still have the pool set up.  My sisters don't like to swim, but I just hop in (with a little help from mom or dad) and cool off in the water for a while.  The best part is when I get out and chase my sisters.  They hate getting wet and I shake all over them.  Last week, I put my foot up on the edge and hopped onto the ramp all by myself!  Mom was shocked (bol), I like to shock her once in a while.  I just hopped down the ramp and chased my sisters around.
I get to go to PetSmart every weekend now.  Mom takes me to visit the shelter she adopted me from.  It's great to see them all and let them know I'm doing fine.  I can't wait to see them this weekend, I'll show them my new trick.  Mom taught me to sit up pretty in just 3 days!  She never thought she would see me do it, especially after the FHO surgery, but I showed her!  Now I try to sit up pretty (shouldn't that be Handsome?) every time she offers me a treat.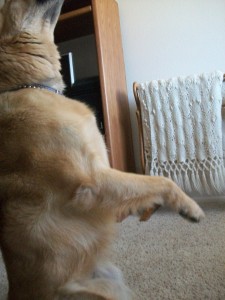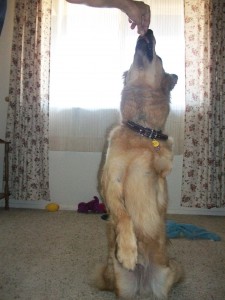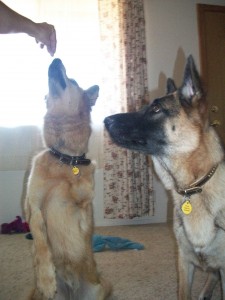 We're gonna take a trip this summer for a couple days.  Mom says Dad is staying home and we're going to the high country.  I sure hope it's not too high, but heard it's cooler there too.  Mom's sister is renting a cabin and invited us to come stay for a few.  I can't wait to meet my cousins Simone' (a std. poodle) and Bailey (a lab mix).  I'm also looking forward to lots of long walks in the woods and maybe just laying on the porch for a while enjoying nature at it's best.
Life is good!